Tuk Tuk Driver Keo
───── Welcome to Siem Reap and Angkor Wat - have a Safe & Happy Journey! ─────
Pav Keo is a friendly and knowledgeable TukTuk driver who offers anything from simple pickups and dropoffs to guided tours around Angkor Wat and Siem Reap. His reasonably priced transportation business ensures reliability, safety, comfort and practicality, and is the perfect pick for tourists looking to get around the Siem Reap area of Cambodia. Explore and experience a safe and trusted enjoyable trip today!
About Me
Dear Tourists,
My name is Keo … welcome to Cambodia the Kingdom of Wonders! I can offer you a lot of wonderful and interesting places to visit and tour here in and around Siem Reap. Of course the historical Angkor Wat temple complex – but there are also many other sights and areas that are worth seeing. Apart from all the fun and adventure I can offer you a safe and well informed Tuk Tuk travel experience with a true local and resident driver of Siem Reap! I will do my very best to take care of you.
See you soon!
Keo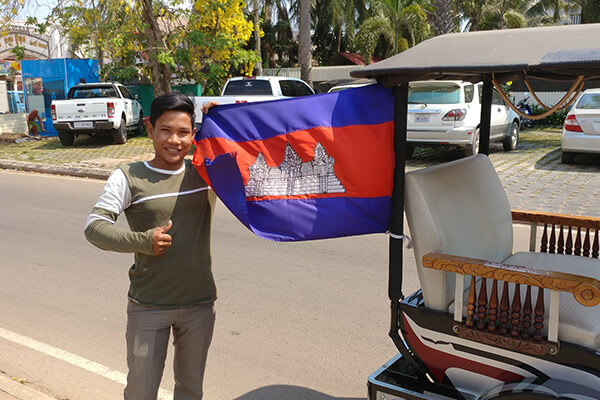 Services & Tours
Offering everything from drives and private guided tours around the temple of Angkor Wat to the streets, restaurants, and landmarks of Siem Reap, consider booking yourself an exciting yet affordable adventure with local TukTuk driver Keo during your stay in the Kingdom of Wonders!
Photo Gallery
Take a look at some of the adventures of people on Keo's drives! With Keo's TukTuk service, you are guaranteed to experience amazing sights and enjoy an authentic experience around Siem Reap.
Contact & Booking
Book your TukTuk drive or guided tour here today. Whether you're looking for a quick pickup/dropoff, or want to explore Siem Reap and the sights and experiences it offers, Keo's TukTuk drive is a perfect fit for you.
Reviews
See what other clients are saying about Keo's Tuk Tuk driver services!
We couldn't have asked to meet a better ambassador for Cambodia. Keo was everything and more that previous contributers have written. Friendly, enthusiastic, excellent spoken English, responded to our WhatsApp... read more

JoanneLong3
April 21, 2023

We had great one day trip with Keo.
Really easy organised and contacted by WhatsApp. Very nice and friendly and took us everywhere we wanted to go and see places... read more

Maik1Essex
March 19, 2023

Keo was our driver and organiser for three days - and he was the best. We started with early morning sunrise at Angkor Wat - he took us to get... read more

MeganKay88
January 23, 2023